Gallium Nitride
for High Electron Mobility
The full power of a laptop charger and an ultra-fast phone charger, in half the size of a laptop power brick. The low-profile SpeedMax68 takes up barely any space, fits discreetly in any bag, and its noticeably powerful dual fast-charging outputs double the utility of a single outlet – that's the advantage of gallium nitride (GaN) semiconductor technology.


The GaN Advantage
The crystalline gallium nitride-based transistors in the SpeedMax68 carry higher amounts of electricity much faster than any silicon-based charger physically can, and they build up less heat in the process. The operating efficiency and heat-resistant nature of GaN components has allowed us to safely pack a powerful dual charger into a lightweight case smaller than a pad of sticky notes.


Charge for The Future
The efficiency of GaN goes hand-in-hand with sustainability and reliability. More efficient semiconduction means less energy is consumed in every charge, because all that power is going directly to your devices instead. And by combining two chargers into one small unit, the SpeedMax68 uses 43% less material than an equivalent pair of chargers – and it will last a lifetime.


Intelligent Dual Output
Consolidate your chargers and save space in your bag – power up your laptop and fast charge your phone at the same time with simultaneous 50W USB-C PD and 18W Adaptive Fast Charge outputs, or fast charge two phones at once without compromising on speed.


What is PD?
USB-C Power Delivery (PD) enables super-fast charge speeds by transferring higher voltages over a shorter period of time. This is perfect for an ultrabook laptop battery, but don't worry about overpowering your phone – the instant you plug in, the PD charger and your PD-compatible device communicate to establish the exact level of high-power output that your device can safely receive.


High-Speed Power for Laptops
With the single 60W PD output, this ultra-fast charger can power a 14" MacBook Pro from 0 to 50% in just an hour on standby – and deliver enough power to charge up the laptop while you're still using it. Devices that don't support PD will still charge safely at the fastest speed possible.


18W USB Adaptive Fast Charge
Adaptive Fast Charge (AFC) Technology can power up most current smartphones much, much faster than standard USB chargers.


Universal Device Compatibility
Compatible with a superior wide array of devices, including MacBook Pro, Microsoft Surface, Dell/HP/Lenovo USB-C Laptops, tablets, and more.


Use with The Right Cable
Get the fastest charge possible with the right cable. Compatible with USB-C to USB-C, USB-C to Lightning®, USB to Lightning®, USB to USB-C cables, and USB to Micro USB cables.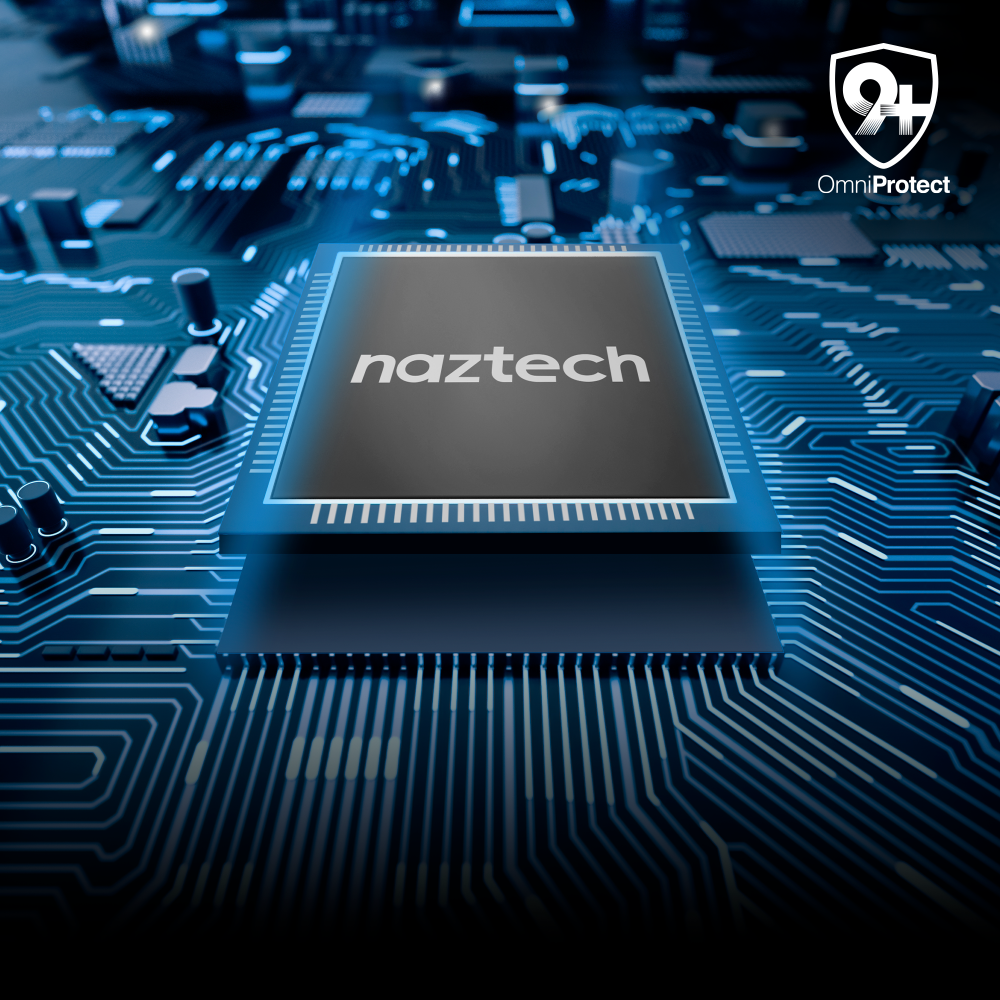 IntelliQ Smart Chip Technology
Get the protections of PD and AFC for all your devices that aren't fast charge-compatible. IntelliQ Smart Chip Technology automatically recognizes your devices' exact charging needs and modifies the flow of power to prevent damage, reduce energy waste, and preserve the lifespan of their batteries.


Free shipping on all US orders over $49
Orders ship within one business day
30 Day Return Policy
Naztech Guarantee
Free Shipping
Orders Over $49
Money Back Guarantee
30 Day Hassle-Free Returns
Naztech Guarantee
Limited Warranty
Technical Support
Real Live Agents
---
Experience GaN (gallium nitride) technology. The SpeedMax68 can send power to your laptop, tablet, and phone 100X more efficiently than ordinary chargers with outdated silicon transistors – and stay smaller and lighter. Equipped with the latest fast charging technologies in incredibly powerful dual outputs—60W USB-C PD and 18W USB Fast Charge—this GaN semiconduction charger can power a 14" MacBook Pro from 0 to 50% in an hour and do the same for an iPhone 13 in just 30 minutes, simultaneously. Say goodbye to power bricks and bulky chargers with thick cables that barely fit in your bag; the sleek and compact SpeedMax68 packs and laptop charger and a phone fast charger into a low profile half the size of a regular laptop charger. Small size meets big power!
California Prop 65 Warning
WARNING : Cancer and Reproductive Harm www.P65Warnings.ca.gov