3-in-1 Expansion
Turn a single USB-C port on your laptop or tablet into a three-port connection point. 4K@30Hz HDMI for outputting to UHD displays — 100W USB-C Power Delivery for super-fast pass-through charging — and USB 3.0 for 5Gbps high-speed data transfer, syncing, and file sharing.


4K Ultra-HD
Multimedia Output
Connect to any monitor or TV with an HDMI input port for a multi-screen setup capable of 3840 x 2160p resolution extended displays, or mirror your screen to stream 4K Ultra HD video content with digital surround sound directly from your laptop or mobile device.


Pass-Through
Power Delivery
Stay productive and fully powered as the MaxDrive 3 hub is engineered to support up to 100 watts of USB-C PD charging power.


High-Speed
Data Transfer
Spend less time syncing and more time working. The USB 3.0 port offers data transfer speeds up to 5 Gbps! You can transfer a full-length HD movie in seconds or an entire year's worth of music in just 10 minutes!


What Happened to
All Our Ports?
Everyday, electronics are slimmer and thinner, with fewer ports than ever. Many devices only have room for a single input port! You shouldn't have to choose between power, data, and display.


Sleek and
Ultra-Portable
Built with a sleek aluminum chassis and durable USB-C cable, this lightweight adapter is powerful enough to leave at your desk as a full-time docking station but small enough to slip into a bag or pocket for use on the go.


Made for
USB-C Devices
Compatible with any laptop, tablet, and smartphone that features a USB-C port.


Take Your iPad
to The Next Level
Compatible with the newest generation of iPad Mini for even more connectivity.


Note:When using pass-through charging, maximum charging power depends on how much power the connected adapter can supply. You must use a USB-C PD adapter to enjoy PD speeds.

Powerful Pass-Through Charging: Compatible with USB-C Power Delivery to provide high-speed pass-through charging to your laptop at up to 85W.

Guaranteed Reliability: Naztech products are performance tested and vetted through a rigorous quality inspection process to ensure reliability. Naztech offers friendly customer service and a Limited Lifetime Warranty to the original purchaser that the product shall be free of defects in design, assembly, material, or workmanship.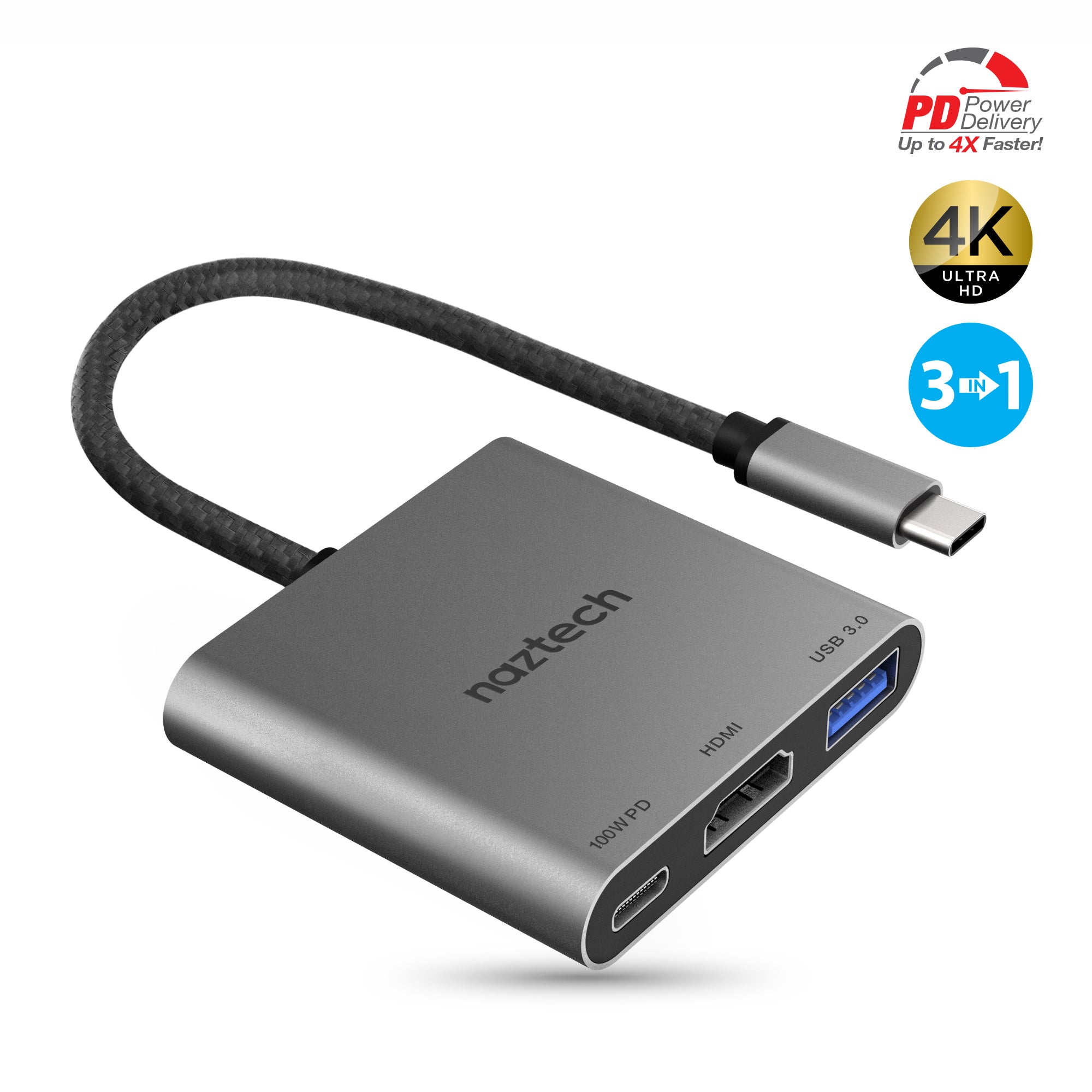 Free shipping on all US orders over $49
Orders ship within one business day
30 Day Return Policy
Naztech Guarantee
Free Shipping
Orders Over $49
Money Back Guarantee
30 Day Hassle-Free Returns
Naztech Guarantee
Limited Warranty
Technical Support
Real Live Agents
---
Connect your devices with the MaxDrive 3! Instantly expand your laptop, tablet, or smartphone into a multi-device setup for a cleaner, more organized workspace without having to plug and unplug devices constantly. Effortlessly connect to keyboards, mouses, external hard drives, smartphones, extra monitors, and more. Keep your devices charged with a 100W USB-C Power Delivery charging port while plugging in for 4K Ultra HD streaming and video quality, enjoying high-speed data transfer of up to 5Gbps with the USB 3.0 Port. Built small and lightweight, this adapter is powerful enough to leave at your desk as a full-time docking station but compact enough to slip into a bag or pocket for use on the go. Plug in and connect to everything!
California Prop 65 Warning
WARNING : Cancer and Reproductive Harm www.P65Warnings.ca.gov